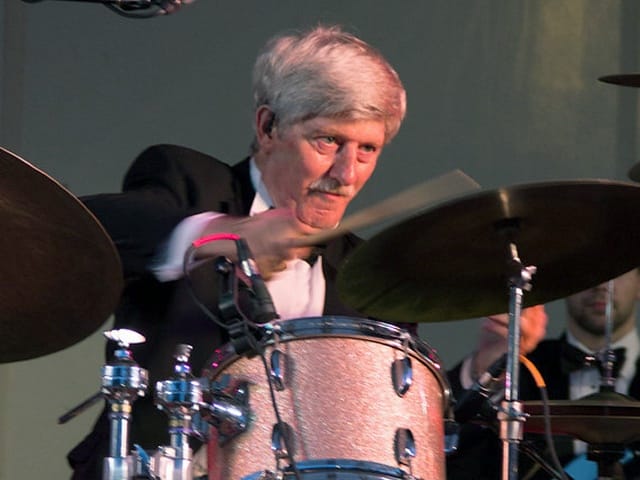 Rick Brunetto, a native of Piqua, Ohio, earned his Bachelor of Music degree at the University of Cincinnati College Conservatory of Music in 1974, and a Masters in Percussion at Ohio State University in 1978. He went on to study timpani in New York with Fred Hinger, world-renowned timpanist with the Philadelphia and Metropolitan Opera Orchestras. In 1974, he joined the well-known Bob Allen Trio at the Christopher Inn located in Columbus, with whom he performed and recorded for over 13 years. In 1978, he joined the faculty of Denison University, teaching in the areas of percussion, jazz studies, and music technology. He served as Chair of the Music Department from 1992 to 1998. He has also taught at Kenyon College, Mt. Vernon Nazarene College, Columbus State, and Capital University. He has performed with the Columbus Symphony Orchestra, Pro Musica Chamber Orchestra and Welsh Hills Symphony. Rick has conducted and directed concerts with many artists including Louie Bellson, Frank Foster, Marvin Stamm, Jon Faddis, Bill Watrous, Deana Martin, The Temptations and the Supremes.
In 1984, he fulfilled a life-long musical ambition to create a 17- piece big band. Today the Rick Brunetto Big Band enjoys great success on the Columbus music scene and appears regularly at festivals, clubs and special events. The band's recordings include: "Tuxedo Junction", "Pick Your Take", "Stand Up and Swing", and their latest CD "So Many Stars So many Dreams." He has written arrangements and compositions for percussion ensemble, big band and symphony orchestra. He has written arrangements for Deana Martin, daughter of legendary Dean Martin and on occasion tours with her performing throughout the US. Currently Rick is on faculty at St. Charles High School where he directs bands and teaches courses in computer applications. Rick and his wife Landa are also co-owners of the historic Valley Dale Ballroom. He continues to perform, write and arrange for the band.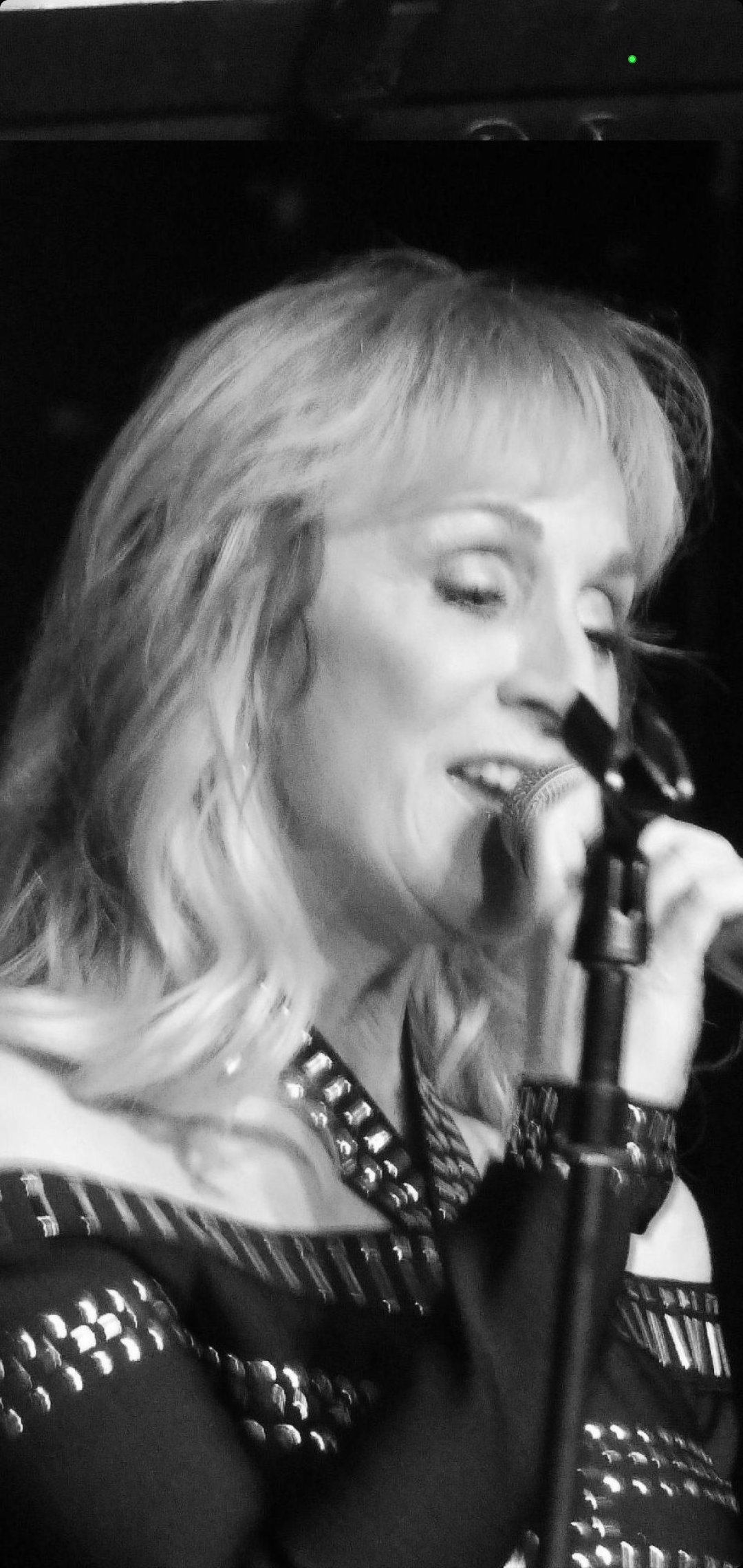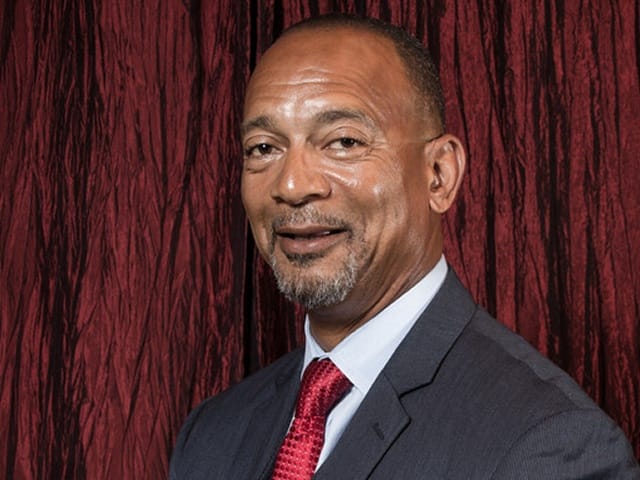 Michael is a Columbus Ohio native who has worked in the automobile industry for 28 years. Currently employed at Jim Keim Ford as the Internet Sales Manager. Started singing early in life at church and in school choirs. Rick Brunetto recognized his talent for singing big band while he was performing in the Pepsi Gimme the Mike competition in 2005. Rick asked Michael if I had ever considered performing with a big band and I jumped at the opportunity… and the rest is just sweet Big Band Sound!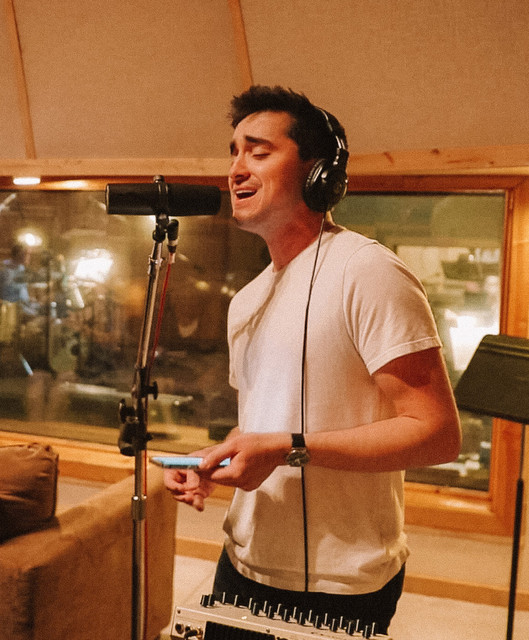 Ben grew up singing in church choirs and has been performing regularly in various venues since 2016. His love and passion for music began in church and spans genres from Contemporary Christian to Classical, Jazz, and Broadway. His favorite artists and influences include Michael Bublé, Frank Sinatra, Nat King Cole, Ella Fitzgerald, Michael W. Smith, and Amy Grant. Ben has released several recordings of originals and covers that are available on Spotify, Apple Music and locally.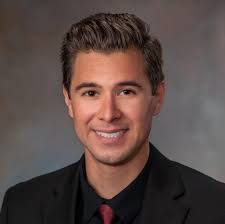 Sam Kearney, Lead Saxophone
Sam is graduate of Captial University and Hondros College of Business. He is currently the band director at Berwick Elementary School. Additionally is a realtor at Red 1 Realty. Sam has also become an expert in the field of crypto currency and offers seminars in that area.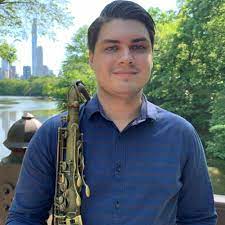 Jake is a jazz saxophonist/composer/educator from Columbus, Ohio. He recently returned to Columbus after a stint in NYC. His biggest musical influences are John Coltrane, Sonny Rollins, Joe Henderson, Wayne Shorter, Chris Potter, and many others. Jake appears at jazz soloist and many venues throughout central Ohio.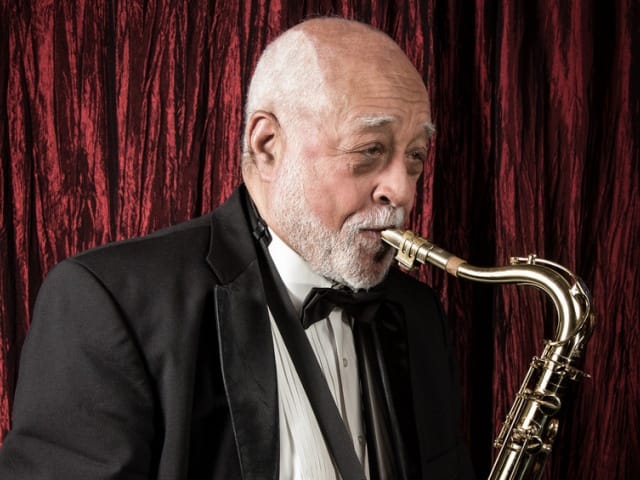 Saxophonist Sonny McBroom has been a staple on the Columbus music. He was featured with the Columbus Jazz Orchestra for more than 25 years. A retired principal from the Columbus Public Schools, Dr. McBroom has delighted audiences all over the world with his superb saxology.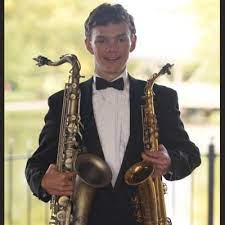 Logan Moore is a rising talent in the world of jazz saxophone and arranging. After graduating from the University of North Texas in 2019, he began writing and recording arrangements for saxophone octet and uploading the videos to YouTube. Since then, he has continued uploading weekly, with new and exciting arrangements that bring a mixture of traditional jazz arrangements techniques, wild reharmonizations/polyrhythms, and even some classical pieces. In 2020, he also began a Christmas music series, where every year, he'd release 25 new arrangements of Christmas songs in the month of December. You can check out these tracks in his debut album, Merry Saxmas, Vol. 1.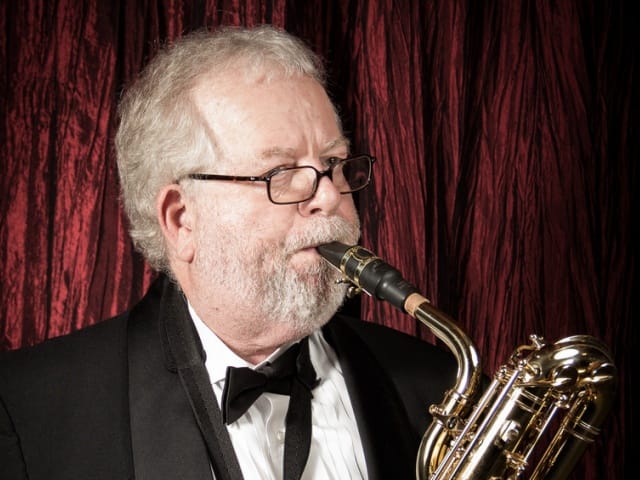 Bob is a graduate of the Ohio State University with a Ph.D. in Music Education. He is retired from the Columbus City Schools. He is an alumni of the U.S. Navy music program and has played locally with the Bruno Masdea Orchestra, the Chuck Selby Orchestra, Sanhedrin Move and the Big Blues Band. He has also played with the Guy Lombardo Orchestra, the Columbus Symphony Orchestra, and the Lancaster Festival Orchestra. In his free time he enjoys cooking and travel.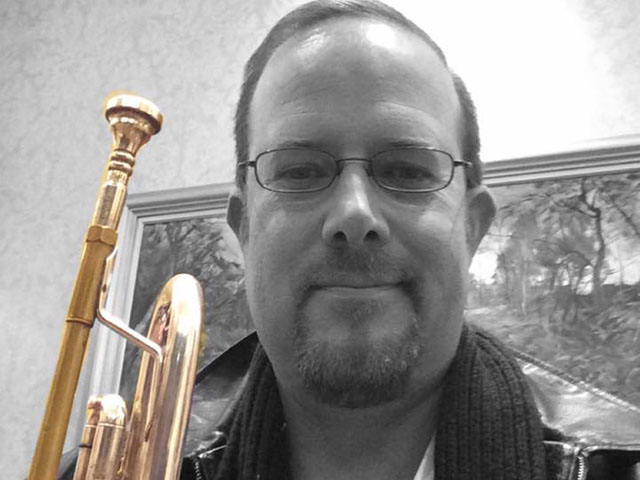 Jason Ferrell,

Lead Trumpet
Jason is a originally from New Albany, Ohio and attended both The Ohio State University where he was member of the marching band and later Capital University where he graduated with a degree in Music Education. He is an instructor at GnG Music Instruction. Jason covers many of the trumpet solos in the band as well as frequently sharing lead trumpet responsibilities. He is in demand as a freelance player and can be seen in many bands from an Elvis Revue to the pop band The Bug Hounds.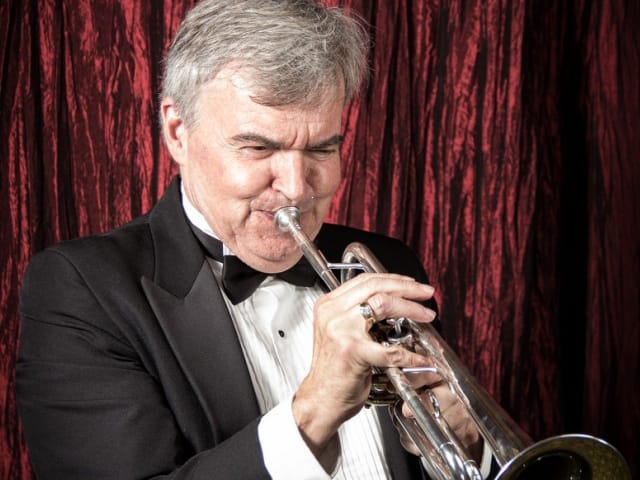 Dr. Larry Everhart is also a prominent physician in Columbus. Larry has played with his own group "Energy" as well as the Vaughn Wiester Famous Jazz Orchestra, The Doc Everhart Big Band and many fine bands in Central Ohio.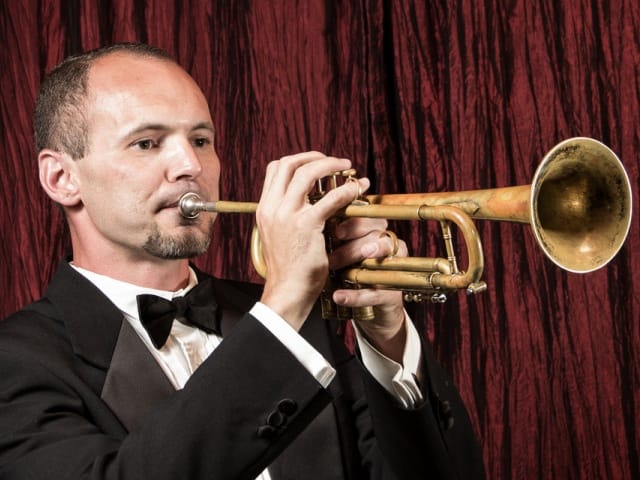 Stephen Fannin has been playing with the Rick Brunetto Big Band for the past year and a half. He received his Bachelor of Music degree from Ohio Welseyan University where he played lead trumpet in the jazz ensemble under Dr. Larry Griffin. Stephen also has a Masters degree in Music Performance from the University of Minnesota where he studied with Dr. David Baldwin and Dean Sorenson. He is currently an Assistant Marching Band Director and Head Jazz Ensemble director in the Marysville City School District. He has performed with several orchestras and jazz groups throughout Columbus including "Faster & Louder", and enjoys spending time at home with his wife, Krista, and son, Bardey.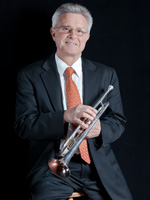 Bob left traveling on the road in 1974, settling down in Columbus. He continued playing the trumpet, performing with many local bands. During this time, he also played with Les Elgart, Buddy Morrow, and the Jimmy Dorsey Orchestra. In 1975, proving that music and math truly go hand-in-hand, Bob went to work for the Franklin County Auditor's office for the next 18 years. For 48 years he was a member of the Columbus Jazz Orchestra
In 1993, after leaving the Franklin County Auditor's office, Bob began working for the State of Ohio Department of Taxation, where he is currently employed.
When not performing with the RBBB, working his day job, and running his two youngest girls to dance lessons, national dance competitions, basketball practices, basketball games, and numerous church events, Bob finds the time and enjoys playing lead trumpet with Street Players, one of Columbus' most sought after party bands.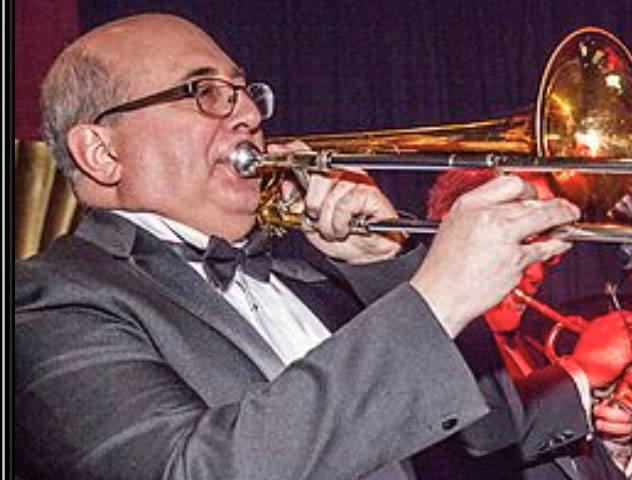 Steve Springer, Lead Trombone
Steve has over 35 years experience playing trombone. He studied trombone, jazz, and music composition/arranging at The Ohio State University. While at OSU he played in the OSU Jazz Ensemble, Ohio State Marching Band, and various small groups. His trombone instructors included Gary Carney, Joseph Duchi, Vaughn Wiester, Dr. Joel Shonkwiler and Nelson Foucht. Additionally he studied arranging with Dave Wheeler. Steve is also currently playing around Central Ohio with the Eddie Pollina Band, The Bug Hounds, Seven of Arrows, Sons of Gladys, Fox Valley Harvest, and others.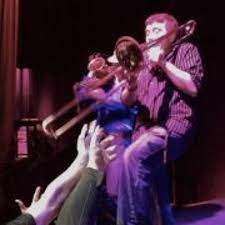 Luke Furniss is a Columbus native and a graduate of Capital University. He has been playing trombone since the 5th grade and has proudly been a band geek since 2002. Luke is currently the band director at Canal Winchester High School. Luke is also a co-director of the New Albany Winds, a community concert band located in New Albany, OH. He is also the trombone player for the Noe Salsa Project which regularly plays around the Columbus area. Luke also plays with the Great Seal of Ohio Band, Chillicothe Civic Theater Orchestra, Rick Brunetto's Big Band, Grove City Winds, Capital University Community Trombone Choir, Capital-Bexley Community Orchestra, and the Linworth Brass.
Jim Dowdy is graduate of Capital University and The Ohio State University. He was a band director at Canal Winchester from 1976 to 1985 and then at Worthington Schools where he retired in 2006. He joined the faculty of Capital University in 2008 where he teaches Music Education and directs the Junior Winds. He has served as president of OMEA and been recognized as one of our leading music educators.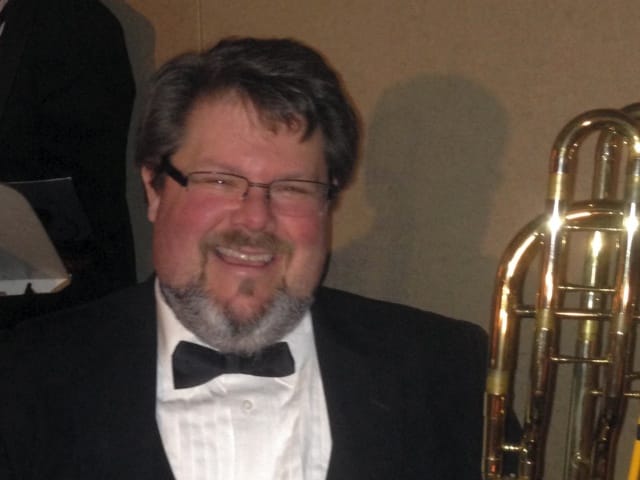 Jeff Banyots
Jeff went to Hilliard High School and began subbing in the band while he was a senior. He then went to Ohio State for a minute and left to play on a cruise ship. After returning he joined the Band full time. Then he left town to play with the Tommy Dorsey orchestra led by Buddy Morrow, some more cruising and landed in Chicago. He came back to Columbus in 2010 and rejoined the Band full time in summer 2013.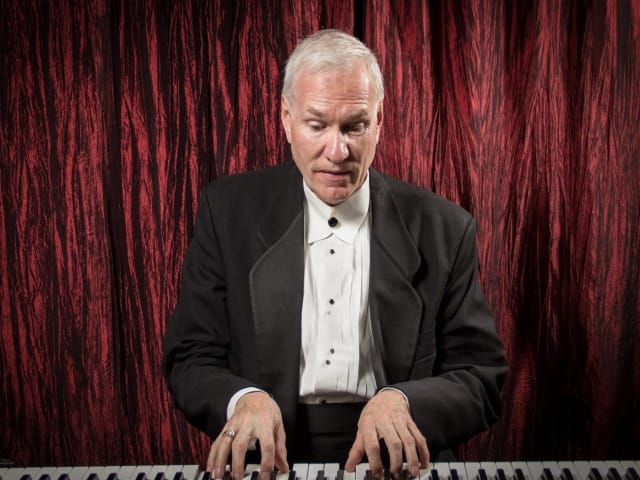 David's original music compositions have been performed by symphony orchestras, concert bands, jazz bands, choirs and solo artists in southern California and the Midwest. He holds a bachelors degree from the University of Cincinnati College-Conservatory of Music. Incidentally he and Rick were classmates there. Before moving west, David operated Schubach Music Center, marking his family's fourth generation in the retail music business. In Hollywood, he was twice elected vice president of the Los Angeles Musicians Union, working closely with the Recording Artists Coalition (Don Henley, Sheryl Crow, Stevie Nicks, Carole King) to lobby for artists' rights. A live-performance contract that David initiated helped free-lance musicians attain health insurance and pension benefits. Close to home, he was commissioned to compose a trumpet concerto for the Southeastern Ohio Symphony Orchestra, and a new score for the Charlie Chaplin silent film, "The Immigrant," which premiered at Ohio University-Zanesville. As a playwright, David's drama "Back Words" was given its Ohio premiere in Zanesville. He also leads The Schubach Big Band, a 17-piece jazz ensemble, that performs at dances and concerts around the Midwest.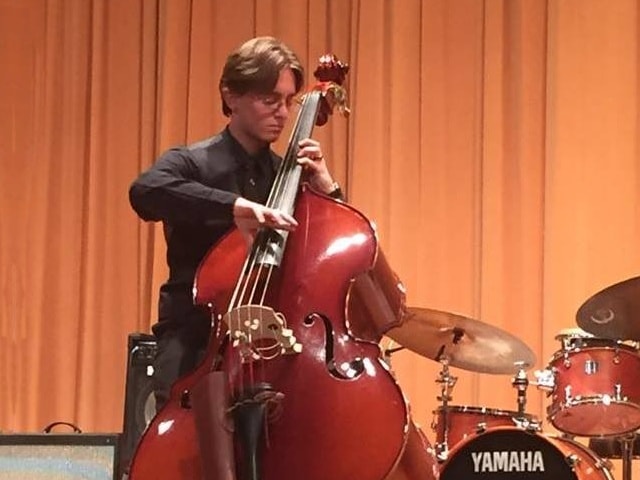 Evan is a native of Columbus, Ohio, having lived there all of his life. He recently graduated from Capital University, with a degree in Music Industry. Evan has been playing upright and electric bass for 11 years and began his musical career at the age of 16, playing with local blues band Dock Adams and Blueshammer (of which he was a founding member). His musical experiences include playing and singing in a variety of ensembles both in and outside of Capital such as the Capital Orchestra, both university concert bands, jazz combos, rock/contemporary ensembles, the Chordsmen men's chorus, and of course, big bands. Evan has been playing with the Rick Brunetto Big Band since the spring of 2015. He is a member of Phi Mu Alpha Sinfonia as well as Pi Kappa Lamba National Music Honor Society and enjoys arranging music, reading, and spending time with his fiancée, Jess.
Additionally Evan is the Production Manager for the band.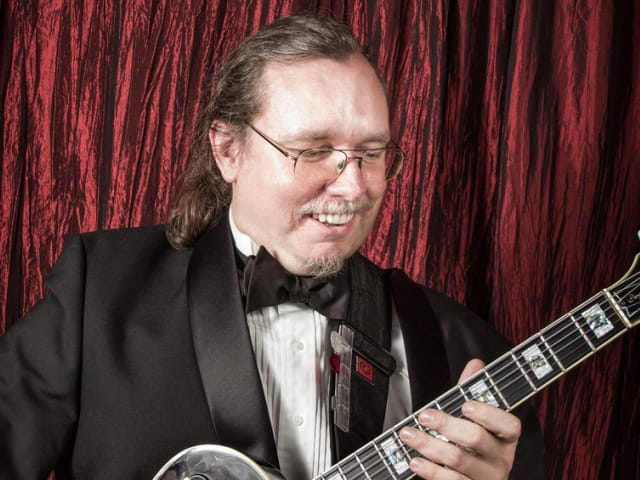 Zsolt has been playing guitar for over 25 years. After his graduation he worked as a concert and studio musician and got involved in the computer game industry as a music composer. In 2000 he moved to Columbus, Ohio to build his carrier in information technology. A couple of years later he re-joined the music scene as a jazz guitarist. Besides Rick Brunetto's illustrious big band, he plays with Matt Ellis in Standard Time, appears in the John Vermeulen Octet and Vaughn Wiester's Famous Jazz Orchestra. Whenever the chance arises, he plays in pit orchestras around the area.
From our base in Columbus, Ohio, we are available to travel anywhere in the continental United States. Call 614-419-5076 or contact us today to book the Rick Brunetto Big Band.
Copyright © 2023 Rick Brunetto Big Band. All Rights Reserved.