From the Ballroom to the Disco
Every Thursday night for over 30 years, people have enjoyed dancing to the music of the Rick Brunetto Big Band at the legendary 94th Aero Squadron. In July, 2020 the band moved to our new home at the Famed and Fabulous Valley Dale Ballroom. Now appearing every Friday, 7:30-10:00.
Younger and younger generations discover the band and enjoy dancing to the live music. Many times 3 generations are sharing the dance floor which is open from age 5 to 105. Our big band is also available for your special event. When you plan a corporate affair, a fundraiser, or a street dance event you will have lots of people with very different musical tastes in attendance.
You need a band that plays it all. The band can play everything from less formal dance songs to classic ballroom dance songs, or of course they can simply mix up styles to bring all people to the dance floor.
The Rick Brunetto Big Band is a perfect dance orchestra playing Latin-American and Standard dance songs in the right tempo for the dance lover audience.
A perfect evening with dancing
During our weekly dance event at the Valley Dale Ballroom, you can expect to hear anything from a beautiful waltz to modern disco hits. These songs will include titles only a big band can play well, other tunes come from the great American songbook. As the evening continues, you will hear the coolest versions of swing, waltz, latin and even Motown songs like you haven't heard in years.
What can you expect when you come? A relaxed atmosphere where you can sit back and listen to the music or stay on the dance floor and dance the night away. The hall is climate controlled, The Valley Dale boasts one of the largest dance floors in the city. No formal dress code (shirt and shoes required). Anything from business attire to semi-formal to jeans can be seen every Friday.
The Valley Dale Ballroom offers the finest in cocktails at the cash bar. Additionally we offer deli sandwiches and desserts for you hungry dancers.
Do you celebrate your anniversary or birthday? Surprise your loved one. Call Rick ahead of time at 614-419-5076 or email him at [email protected] and let him know the occasion. Expect a chat about your favorite songs or even a cake!
The band plays 7:30 p.m -10:00 p.m. There is a $15 cover charge per person.
Reservations are not necessary most of the time, but on our themed evenings and special dance nights (Valentine's Day, Mother's Day, 4th of July celebration, Halloween, Christmas and New Years Eve parties) reservations are recommended.
Make sure you are not missing the special dance night! You can reserve your table by calling the Valley Dale Ballroom at 614-441-1907.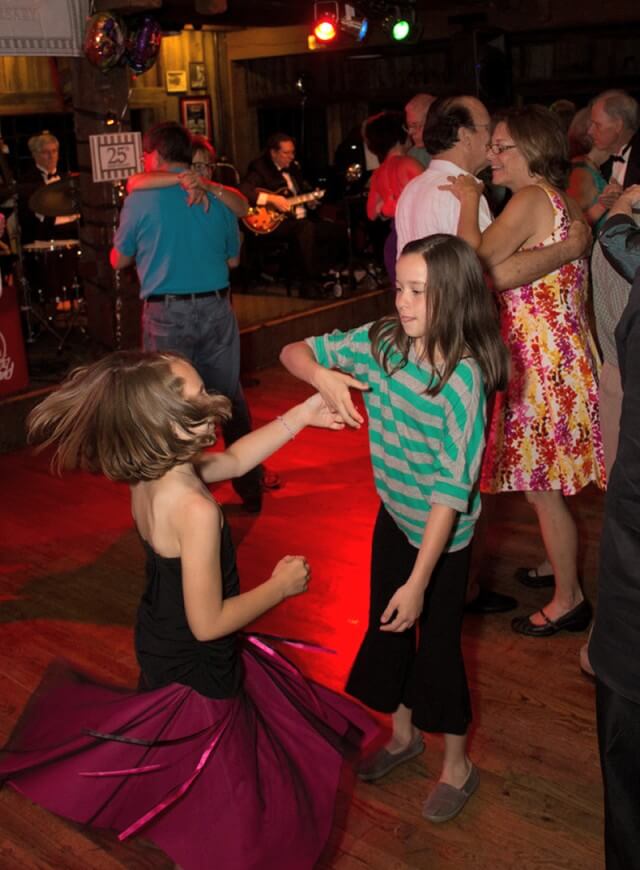 WE WILL WORK WITH YOU TO MAKE THIS HAPPEN.
Do you need a band for your party?
For dance parties, competitions, ballroom galas, fundraisers, award ceremonies, corporate or private celebrations we've done them all. Got an idea for something different and unique? Just ask!
We have entertained guest as small as 50 people to over 2000 in attendance and we understand the difference between an intimate setting, a gala, a ballroom dance event, or a parade. We know when to play, and when to listen. The band can stay in the background or can be the engine of the night. The song selection, the volume levels and show elements will always be appropriate. We can customize band size, the instrument selection, even more; we can vary these during the night.
The dance song set list will be custom built for you based on your specific requests or generic guidelines to adjust to the theme of the event. We have a huge dance music library available at the event which helps us to adjust the songs on the fly to match the mood of the party and your needs. Event planning can be a complex task. Don't waste time with disorganized bands with limited experience. We are able and ready to help with organizing your music, run the show, and take that burden off your shoulders. Rest easy and enjoy the music, or cut loose and dance away your worries. You can plan on your guests having a great time.
Do you want to dance now?
From our base in Columbus, Ohio, we are available to travel anywhere in the continental United States. Call 614-419-5076 or contact us today to book the Rick Brunetto Big Band.
Copyright © 2023 Rick Brunetto Big Band. All Rights Reserved.